Starter package setup
FAQ
Release Information
Downloads
Secomea Product Scenarios
GateManager
GateManager Own
LinkManager
SiteManager
SiteManager Embedded
LinkManager Mobile
DCM
DCC
Legacy Products
Manufacturers
Working with Alerts
---
Purpose
---
The intention of this article is to introduce the administrator to alerts on GateManager.
The intended audience is Domain Administrators.
---
Information
---
Generally about Alerts
Alerts can be used to submit an alert to a specific email address (or by SMS to a mobile number if this feature is enabled on the GateManager.
Alert processing depends on the GateManager connection to the Secomea Appliances (SiteManager or TrustGate) being available or not.
Alerts that are associated with equipment connected to the Appliance (via an Input port on a SiteManager, or equipment connected by Ethernet, USB or Serial), will be delivered instantly via the Appliance' GateManager connection, and result in the alert email being sent immediately (or based on the defined delay for the trigger)
Alerts that are associated with the Appliance itself, such as an "Appliance Disconnect" alert, will only be triggered based on the following criteria:
1. If the next expected heartbeat does not arrive (default up to 10 minutes), or..
2. If the Appliance has sent an off-line heartbeat, and has not reconnected within 2 minutes (offline heartbeats are generated based on a controlled reboot/reconnect activated from the local Appliance Web menu or an applied GateManager reboot action, or as a result of an automatic reboot in conjunction with a firmware upgrade).
If a SiteManager is disconnected, and have Disconnect alerts associated with devices controlled by the Appliance (such as a SiteManager agent), the alerts for these devices will be triggered based on the above two criteria also. Note that the devices may in fact be connected locally at the remote site, but since the GateManager cannot determine the cause for the general disconnect, it has no other choice than to trig-ger the device alerts also.
Alerts are created by right-clicking the domain where the alert should be created.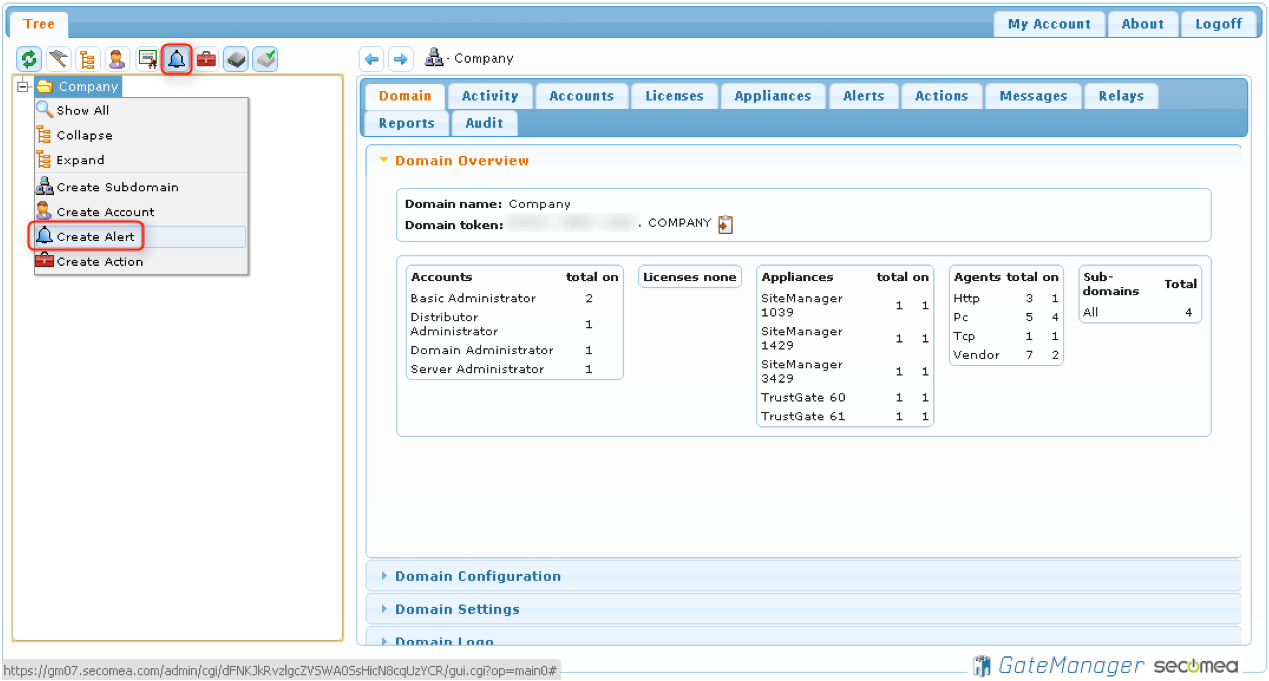 Example of a FAILED Alert (aka. Disconnect Alert)
Common names like "FAILED" or "Connected" are reserved words on the hosted server, so you will have to extend the naming like in this case "FAILED(Company)" – this will also clearly identify the alert when it is mailed to you.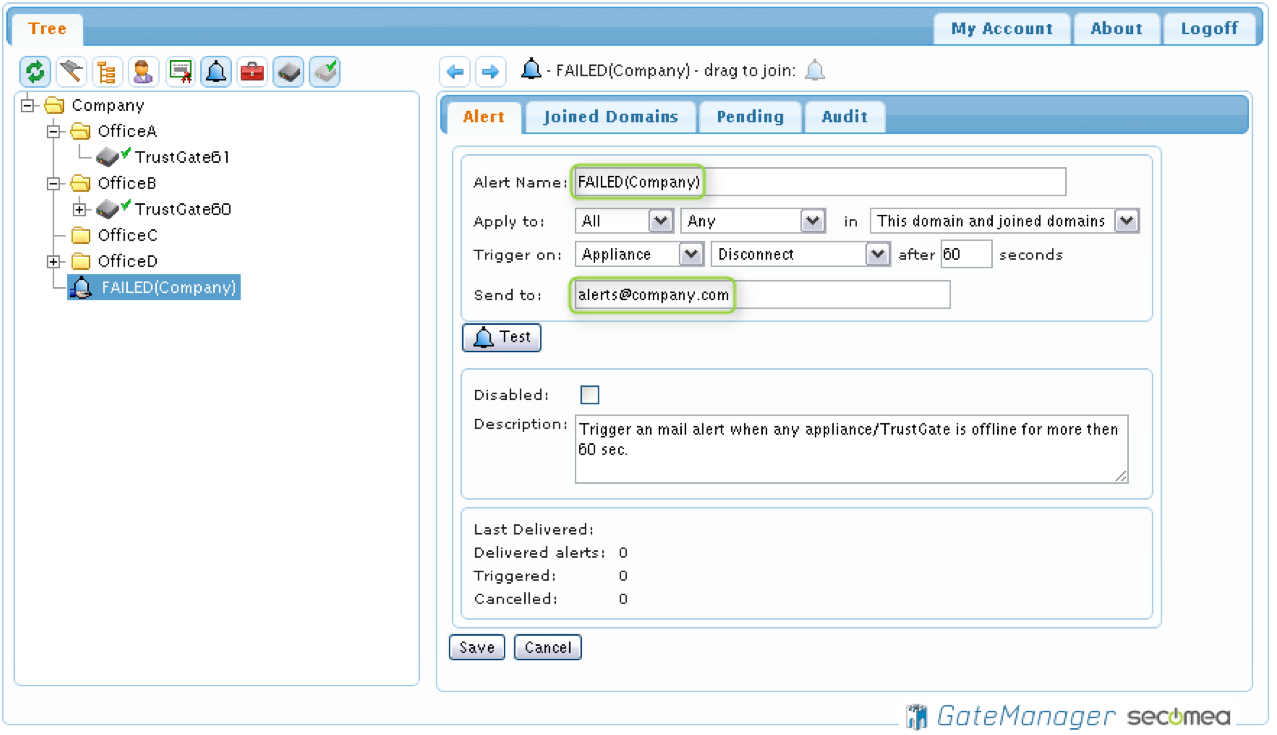 Example of a CONNECTED Alert for selected appliances
This example illustrates the creation of an Alert that is triggered when certain appliances connect.
Create the Alert definition as follows: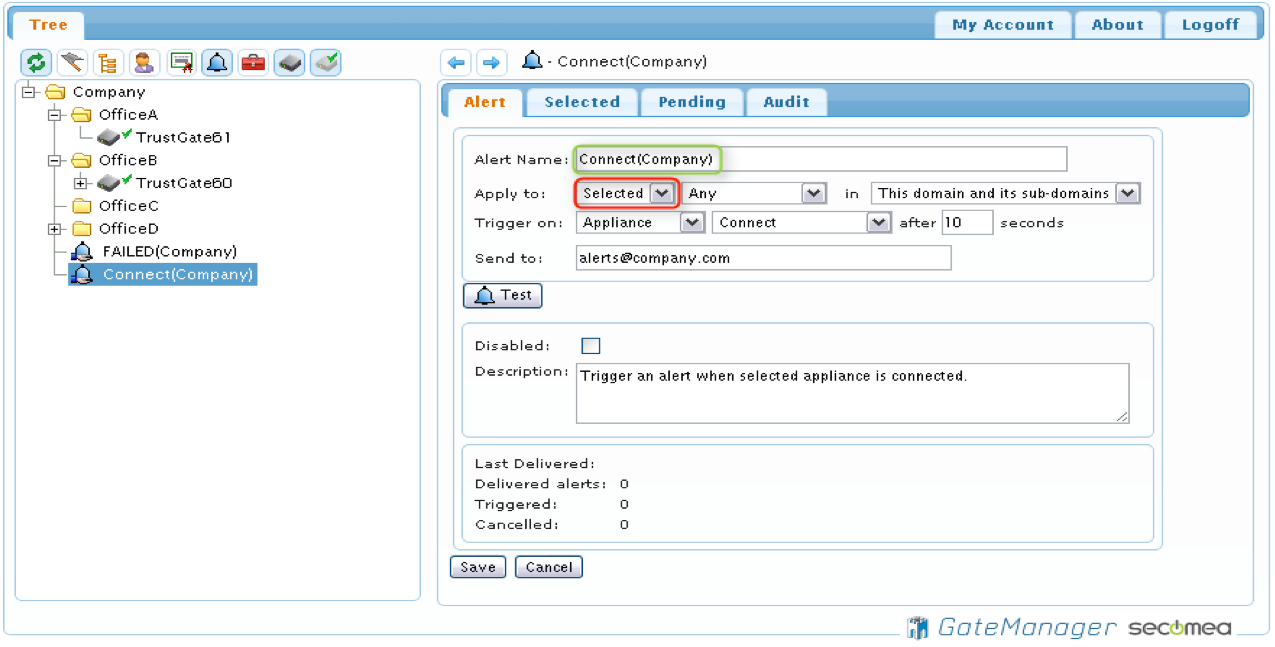 Now click the Selected tab and checkmark the appliances that should have this alert associated.


NOTE: Combining the "Apply to" and "Trigger on" options should cover most of the needs for an Alert.
---
Requirements
---
GateManager account configured and attached and configured SiteManager.