Starter package setup
FAQ
Release Information
Downloads
Secomea Product Scenarios
GateManager
GateManager Own
LinkManager
SiteManager
SiteManager Embedded
LinkManager Mobile
DCM
DCC
Legacy Products
Manufacturers
Domain Messages in the GateManager
Purpose
---
This article will walk you through the feature of Domain messages on the GateManager.
Available from GateManager Release 9.1 for administrators. When a user login he will get a message box.
---
Information
---
Look for the Messages Tab and press Create a new message.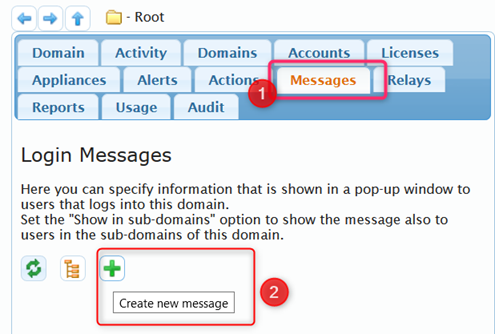 Fill in Title, Text and tick the boxes of your choice.
Available Options
Disable - Disable the message so it won't show anymore.
HTML format - Use a HTML format to display the message
Show in sub-domains - will show the message in available sub-domains
Show for X days - Will only show message for the set amount of days
Show to - Enable to choose how the message should be displayed to
Administrators - Domains Administrators, Basic Administrators, and Distributor Administrators
LinkManager Users - LinkManager Accounts
LM7 - Accounts using the LinkManager 7.4 or older.
Use the preview to see how the message will be displayed.
And use Save to save the message and delete it to remove the message.
The message will now be displayed for selected Account users when they log in.
The message can be close in two ways.
This will close the message as not read, and the message will be shown again on the next login.
This will close the message as read, so the message will not show on the next login.